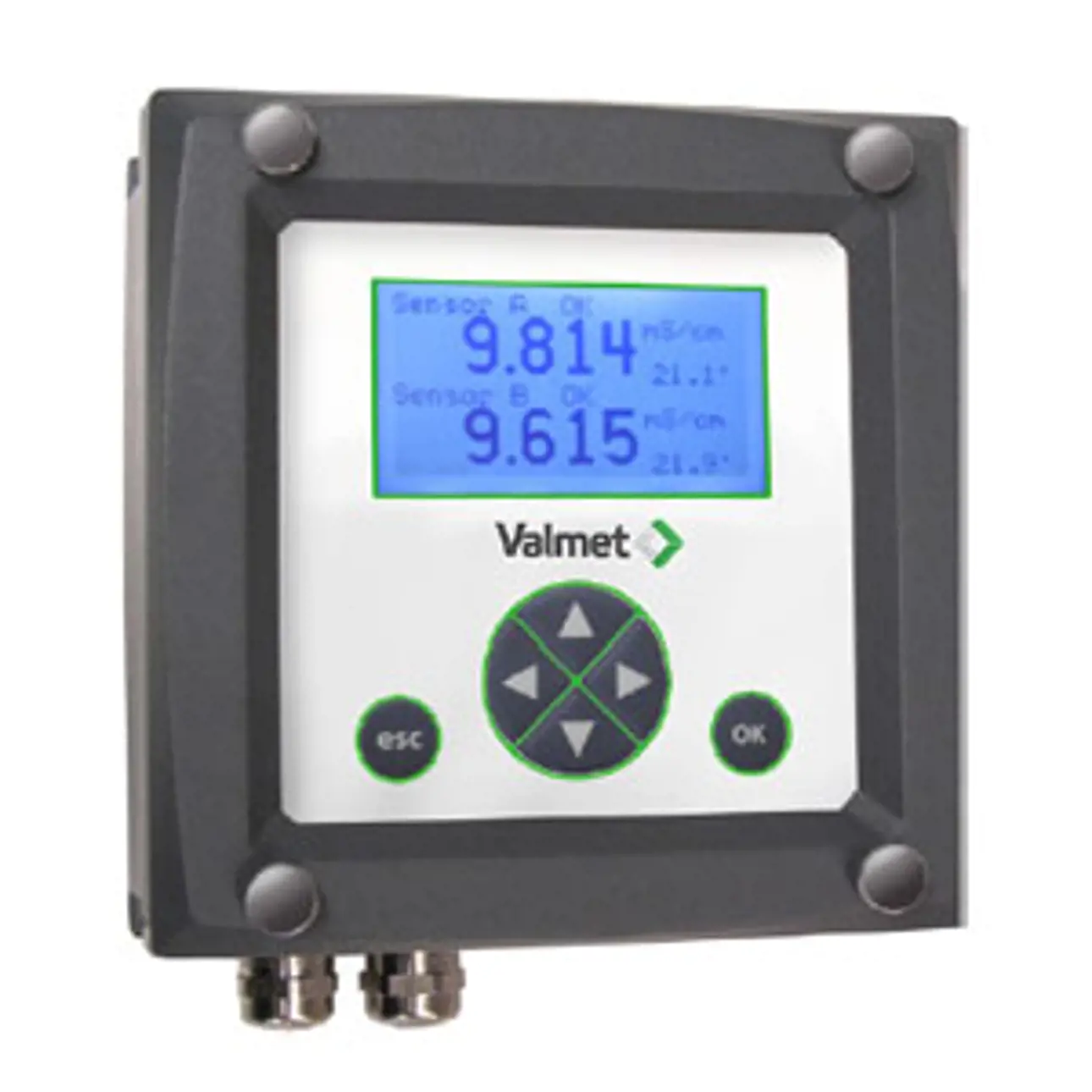 Få mere information om dette produkt
Cut costs over the lifetime of the sensor
Excellent flexibility with a range of easy setup options makes Valmet Dual Conductivity 3200 a real cost-cutting solution.  In large sampling stations, for example, you can use more sensors with fewer parallel transmitters. Cation exchanger applications also benefit from the advanced, high accuracy capabilities of the dual conductivity meter.
The dual channel meter features cable compensation, scaling compensation, as well as temperature compensation. Even measuring the highest purity water below 1µS/cm is supported thanks to advanced error reduction technology. Our sensor range supports applications with up to 50 bar and 250 °C.
Sensors for hazardous reactor island conditions
The Dual Conductivity 3200 is ideally suited for the reactor island of nuclear power plants. Our specially design 4700 series conductivity sensors are resistant to radiation up to 1.00E +05 Gy and are currently certified for use in nuclear reactors in Sweden.
Thanks to the incorporated cable compensation, the transmitter can be installed behind radiation shields for safe operation. The long lifetime and low maintenance of our conductivity meters also further contribute to the health and safety of plant operators.
Nuclear power plants have number of special requirements for equipment testing. Valmet offers services that include conducting the required tests in our own production facilities.
High accuracy for sanity applications
Our 4600 series sanitary sensors for the Valmet dual Conductivity 3200 are designed for high purity water applications in food, dairy, beverage, and pharmaceutical industries. Select sensors fulfill EHEDG requirements for material, surface roughness, and steam cleaning.
Valmet sanitary sensors are EHEDG Type EL Class 1 certified. In addition, all wetted surfaces fulfill the hygienic requirement for surface roughness (Ra ˂ 0.8 µm). Metal parts are made from high-grade AISI316L stainless steel, and plastic (Teflon) components fulfill both EU and FDA requirements for materials used in contact with food.
Typical applications for Valmet 4600 series sanity sensors include Cleaning in place (CIP) control, Steaming in place (SIP) control, Ultrapure water (UPW) measurements and Water for injection (WFI) measurements.